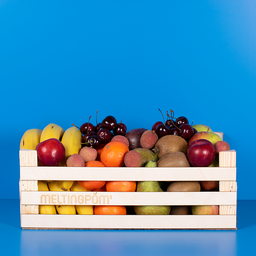 The MeltingPom'
Degressive prices.
At MeltingPom' we love original and seasonal fruits. If you want to get off the beaten track, get away from the usual, this basket is made for you. Let yourself be tempted by a surprise basket every week: you won't be disappointed!

In the MeltingPom' you will find bananas, apples, pears, oranges, clementines, grapefruits, nectarines, peaches, flat peaches, grapes, melons, watermelons, kiwis, plums, apricots...And reines-claudes, lychees, figs, passion fruit, cherries, physalis, raspberries, blueberries, blackberries...

5,86€ deposit for the crate.​